We arrived in Scotland by train--it was great! No security hassles, no huge crowds, no long delays. We got there in just 4 1/2 hours, which is incredibly fast, considering how far we traveled. The cottage we stayed at was just outside of Stirling (about 40 mins from Edinburgh). It was so picturesque: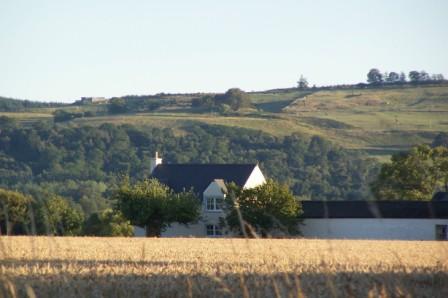 There was a trampoline on the property, which kept Kiera occupied for hours on end (and gave us some exercise when it was our turn to entertain her). It really was the perfect place to stay. It was centrally located between the two major cities, yet it was in the country so you got that nostalgic feeling. It was roomy enough for all of us to live together for a week comfortably. I would definitely return there in a heartbeat.

On Monday we visited Stirling Castle, which was only about 15 minutes away from where we were staying. It is quite different from most of the castles I've been to. Most of the site is in very good repair, and they are working on restoring the castle to how it would have been in the time of Jacob XI. They also have on-site weavers at the castle, who are creating copies of the "Hunt of the Unicorn" tapestry series to decorate the great hall. By far the best part of the castle was the tour guide. He took us on an hour-long tour of the castle that was free with admission. He was so entertaining! I could have listened to him for hours. The journaling on my page reads: "Stirling Castle is built high on volcanic rock at the lowest crossing of the River Forth, which was of great strategic importance. It was the coronation site of several Scottish kings and queens, including the infant Mary Queen of Scots. Our tour guide loved theatrics, demonstrating how heads were chopped off on the closest tourist (usually a young Indian boy, who was completely delighted)."

Full Credits HERE