A few weeks ago I posted that I had a surprise that had been keeping us busy, and I never followed up on that post.  No, I am not pregnant, as some have asked!  My wonderful dad and mom came down from Utah in the middle of February to give me my Christmas present.  I didn't need "things" for Christmas, so I asked if they would be willing to come down and help repaint my house.  I was very tired of the brown.  It just felt too dark and dreary, especially since we get very little natural light.  So they lovingly agreed and spent a long weekend working with us.  And, boy, did we work!  We painted the kitchen, the living room, the entryway, the stairwell, and the upstairs halls in ONE weekend.  My mom and Kiera took the kids while Aaron, Dad and I painted.  I'm still far from done with my redecorating (I still have chairs to upholster, a bench to repaint, curtains to find, and a mantel to dress), but here's a brief glimpse of what we've done so far. 
We wound up going with a very light gray (Olympic Gray Ghost) with aqua (Olympic South Pacific) accent walls.  I love the light, beachy feel that it gave the house, especially when paired with the white sheers and bamboo roman shades.
Check out Miss Cutie making faces in the mirror lamp!  I'm looking for something more colorful to add to this table, so I think I'm going to plant some flowers.  If the real things don't grow, I'm going to go for fake.
Here's the shot of the living room:
Before (please pretend that the mess isn't there):
After:
This is still a work in progress.  I need to make cushions for the chairs (I have the fabric picked out; I just need to wait until it's in the budget for next month!) and I'm quite stumped as to what to put over the fireplace.  The ledge is SO skinny, and the recessed arch makes hanging things difficult.  I have a few ideas, but we'll have to see what actually happens there.
This is what our main accent wall used to look like: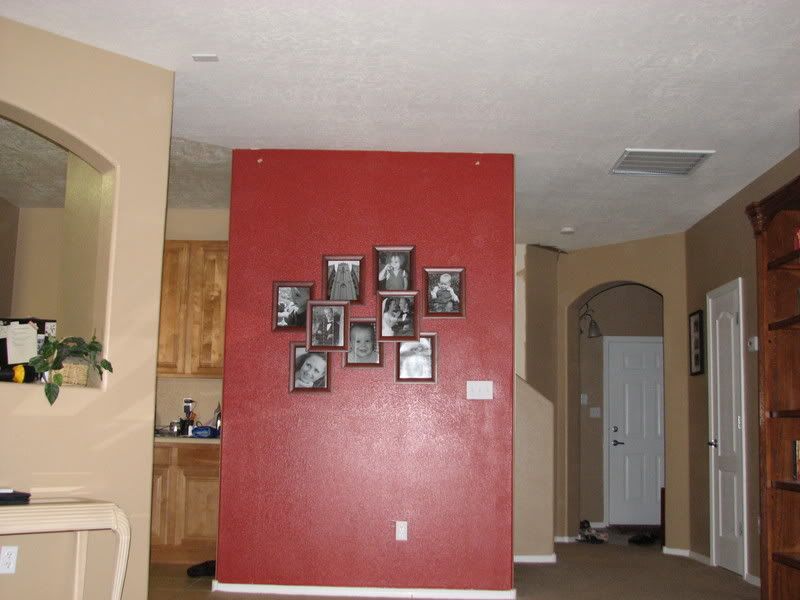 It's now gotten a facelift:
I spray painted the frames Rustoleum Heirloom White in Satin and then distressed the edges.  I also found vintage beach pictures from the Library of Congress.  This blog touches up photos from the Library of Congress's Flickr account and has them available for free download. 
This window was the inspiration for the aqua:
I found this on Craiglist for $20.  The guy who sold it to me replaces windows for a living, and he said he pulled it out of an old pueblo home that was over 100 years old.  I did nothing to the window but clean it up.  I love the aqua paint with the green and bare wood showing. 
Here's a shot of the kitchen:
Before:
After:
I loved the blue still, but it just wasn't working with everything else.  And the chairs really weren't that orange, but after our kids, they did need a recover.  I used a shade darker for an accent wall (Olympic Silver Dollar), and since I like the bamboo blinds so much, I decided to bring that into the dining room with the rug.  One thing I've learned: I'm NEVER buying dark wood floors while I have children.  It may look gorgeous, but it's a nightmare to keep clean.  I honestly sweep three times a day.  I still have the old artwork up, but I haven't found anything yet to replace it with, so it stays for now.
It's hard to see in the photo, but the flowers on the chairs have aqua buds.  Here's a closeup of the fabric.  I bought it on sale at fabric.com. (YES!!  I just went to link to the website, and the fabric I want for our chair cushions is on sale for $6.99/yard!!!)
This is the fabric I'm getting for the wicker chairs:
So that's my udpate.  Thanks so much, Mom and Dad, for helping me do all this!  It would have taken me years to do it on my own!!!!